The high-tech, cutting-edge Hypoxic Tent SystemTM (developed and patented by Hypoxico Inc., New York) provides a low-oxygen (hypoxic) environment for resting or sleeping at standard atmospheric pressure.

The HTS is a suitcase-sized, portable system, which includes a hypoxic generator and a lightweight tent, that can be set up over any bed, at home or on the road.

The hypoxic generator continuously supplies air with oxygen content of 14.8% simulating inside the tent the "altitude" of 8,500 feet (2500m). Special systems adjustable to higher altitudes can be provided for top athletes.
Using HTS for 6-8 hours a day is sufficient to stimulate "altitude" acclimatization resulting in increased Red Blood Cell production, Vo2 max and greater aerobic performance.

Hypoxic Tent System is available in 120V/60Hz and 220/240V/50Hz Models.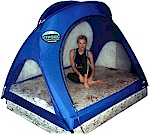 The cutting-edge HTS technology is already in use as "Secret weapon" by many top level athletes around the world including:
Michellie Jones - World #1 Triatlete, 1998 World Cup Champion
Paula Newby-Fraser - 8 time Hawaii Ironman World Champion
Suzy Hamilton - 1500m Track and Field, Two time Olympian
Debbi Lawrence - 2 time Olympic racewalker, 11 time National Champion
Lee Vertongen - NZ, 1998 Commonwealth Games medallist
Wolfgang Fasching - Austrian top cyclist, winner of the Race Across America
Shaun Wallace - UK, 2 time Olympian & 1998 Commonwealth Games & 1998 Goodwill Games medallist.